Water sustains our planet, yet the future of our freshwater resources is tenuous, given the pressures of wasteful water abuse and climate change. Our research is aimed at creating a more resilient future for freshwater lakes and wetlands.
Our research focuses on algae, especially diatoms, which produce 30% of the world's oxygen, serve as indicators of ecosystem change, and are at the base of aquatic food webs.
We also hope to inspire the public by engaging in outreach activities, particularly through the fine arts, to build an informed citizenry.
Our lab is dedicated to an inclusive and diverse environment that celebrates individual differences and advances opportunities for people interested in algae.
Dr. Evelyn Gaiser
George M. Barley, Jr., Eminent Scholars Chair
Institute of Environment
11200 S.W. 8th Street, CASE 253
Miami, Florida 33199
305-348-6145
Email: gaisere@fiu.edu
Latest News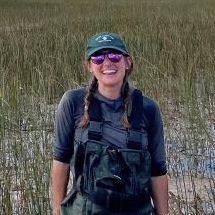 We are excited that Dr. Kelsey Solomon has joined the lab as FIU's first George M. Barley Post-doctoral Fellow. Kelsey received her Ph.D. from the Odum School of Ecology at the University of Georgia where she studied effects of urbanization…
Read more