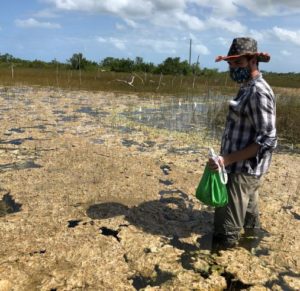 Congratulations, Tommy Shannon!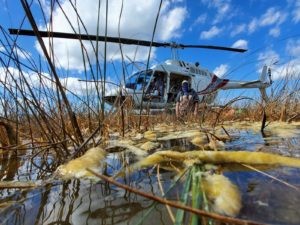 It's a season of defenses!
11-05-21 at 2 pm EST:  Meredith Emery, M.S. Thesis Defense, Reconstructing cyclical browning from diatom records in a subtropical lake. https://fiu.zoom.us/s/93147165607
11-09-21 at 12 pm EST: Katie Stansbury, M.S. Thesis Defense, Drivers of extracellular polysaccharide production by a mat-forming diatom. https://fiu.zoom.us/j/93632953665?pwd=eThFWWpNQTNDNmwrTVpncUE5TS8ydz09
11-15-21 at 11 am EST: Tommy Shannon, Ph.D. Proposal Defense, https://fiu.zoom.us/j/96730502715?pwd=MzBqb0QwSWdRRHhacXVOSGNvT0xXUT09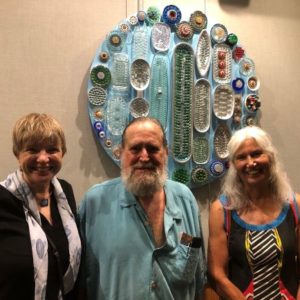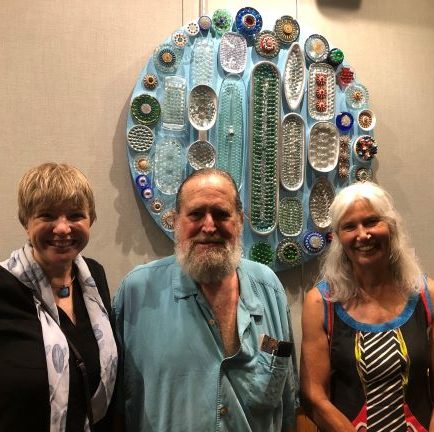 The lab attended Richard Cohen's Diatomaceous Dreams exhibit opening at Biscayne National Park
6-27-21:  We attended the opening of the Diatomaceous Dreams exhibit of beautiful diatom-inspired art by Richard Cohen which will be on display from 9 a.m. - 5 p.m. daily from June 11 through Sept. 12 at the Biscayne National Park's Dante Fascell Visitor Center Gallery. Archbold Biological Station Executive Director Hilary Swain (pictured with artist and Evelyn) also attended. If you are new to diatoms, listen to Evelyn's talk "Why diatoms matter" related to this exhibit.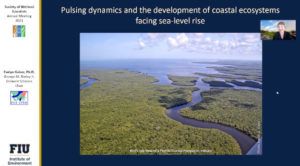 Evelyn gives SWS plenary presentation
Evelyn gave a plenary presentation at the 2021 Society of Wetland Scientists Annual meeting. Click here to view her talk that provides an overview of research of the Florida Coastal Everglades LTER program.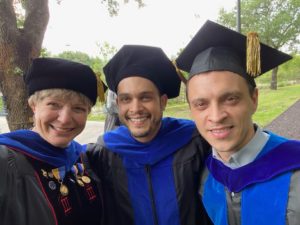 David becomes Dr. Berthold
3-17-21: Congratulations to Dr. David Berthold who successfully defended his Ph.D. dissertation entitled "Productivity of diatom Fistulifera alcalina in bacterial co-culture and comparative mitogenomics of Fistulifera species." David conducted his research in the laboratory of our colleague Dr. Dail Laughinghouse at University of Florida IFAS. We are so excited for David in his next steps as leader in the field of applied phycology.

4-24-21: Update: David participated in FIU commencement and was honored with the Best Dissertation in the College of Arts, Sciences and Education and the Real Triumphs Award - the top award FIU gives to only a few graduates each year. Congratulations, David!!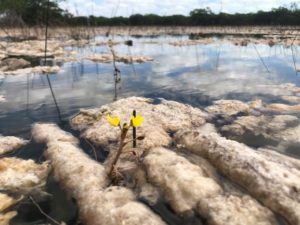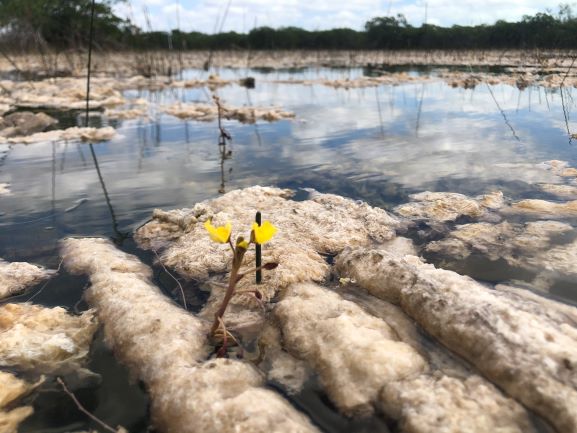 Katie, Paige, and Tommy Receive Menendez Fellowships
4-16-21: Congratulations to Katie Stansbury, Paige Kleindl, and Tommy Shannon for receiving Cristina Menendez Memorial Fellowships! These awards will support exciting proposed research related to their theses/dissertations and honor the memory of Cristina Menendez.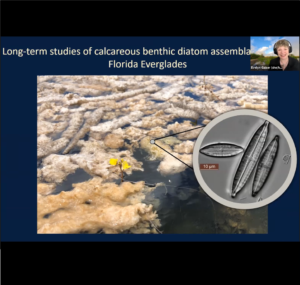 Franco and Evelyn give Diatom Web Academy presentation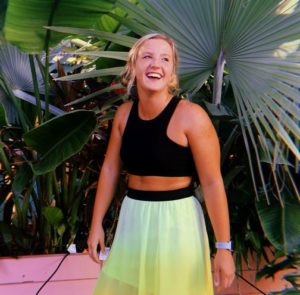 Katie Stansbury wins best poster award
2-05-21: We celebrate with Katie Stansbury upon her receipt of an award for her poster presentation "Drivers of extracellular polysaccharide production by a mat-forming diatom" at the 2021 Virtual FIU Biosymposium. Katie also successfully passed her qualifying exams and will be publicly defending her thesis proposal on April 15 at 1 pm. Let us know if you would like to attend via zoom.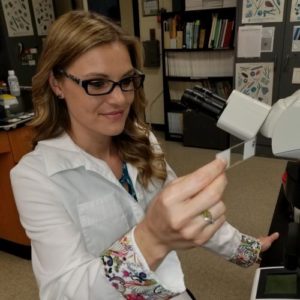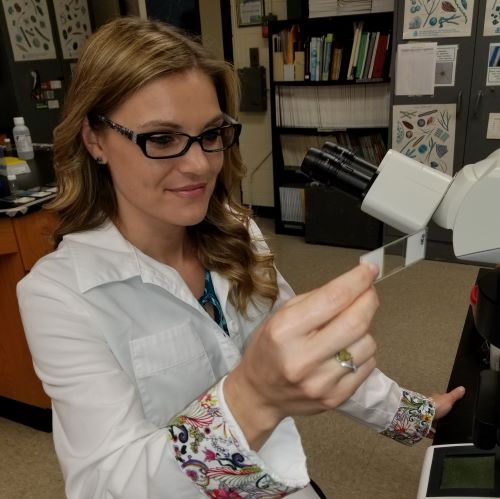 Katie Johnson joins the lab!
10-5-20: We are so excited that Katie Johnson has joined our lab in a Research Analyst position! She'll be identifying and counting Everglades algae and helping us with our diatom database. Katie recently received her master's degree from Georgia College in the lab of Dr. Kalina Manoylov, where she studied the biodiversity of diatoms in South Carolina rivers.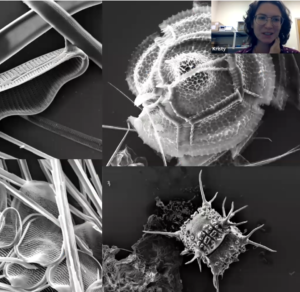 Kristy defends her thesis on phytoplankton assembly
11-09-20: Congratulations to Kristy Sullivan for successfully defending her thesis: "Long-term and seasonal drivers of phytoplankton assembly in a subtropical monomictic lake." We are so proud of you!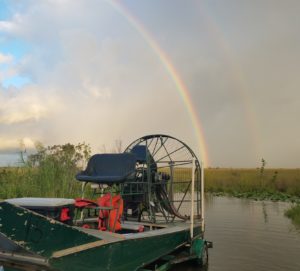 FIU Next Horizon: Dedicated to Protecting the Everglades
FIU's Next Horizon Capital Campaign is dedicated to protecting the Everglades. Check out this video featuring Evelyn with the CEO of the Everglades Foundation, Eric Eikenberg.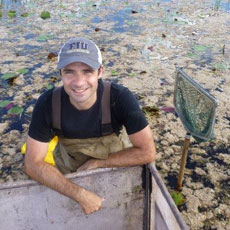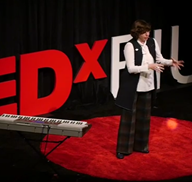 Evelyn Gaiser presented "Lakes Write Music. Science listens." at the fifth TEDxFIU (November 16, 2016). Evelyn translated high-frequency lake data to music in order to better understand changes. "Lake Annie's Song" was created with data by Evelyn, arranged by Marcus Norris, and performed by Yaniv M. Cohen, Aryam Gonzalez, and Thomas Lopez (FIU School of Music) at TEDxFIU.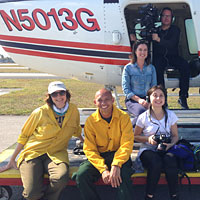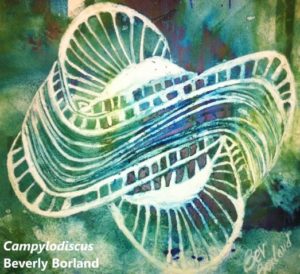 The "In Deep with Diatoms" exhibit at FIU's Frost Art Museum featured paintings of diatoms by the Tropical Botanic Artists and diatom sculptures by Xavier Cortada. The artists worked closely with our lab to develop these pieces.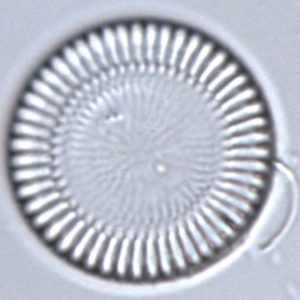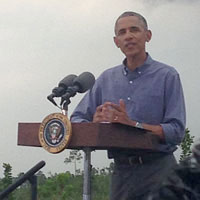 Dr. Evelyn Gaiser
George M. Barley, Jr., Eminent Scholars Chair
Institute of Environment
11200 S.W. 8th Street, CASE 253
Miami, Florida 33199
305-348-6145
Email: gaisere@fiu.edu